As with mobile phones, the use of smartwatches is also spreading rapidly, which is why today more than ever it is important to have a smartwatch with a long-lasting battery that does not drain easily.
It is really nice to be able to check your emails, see who is calling you without having to take your smartphone out of your pocket and take a look at the weather forecast, all by simply raising your arm and checking your watch.
The only flaw of these "smart watches" is represented by the battery life; there are many functions available that drastically reduce the charge of these wearables.
If you are about to buy a smartwatch and have doubts about the battery life, don't worry. Here is smartwatch with good battery life.
Do you know that there are some tricks that can help increase battery life?
We are talking about smarter management of the functions that your device offers.
Therefore, a very good knowledge of the software and hardware of your watch is necessary in order to make the most of these recommendations.
A clarification is necessary. Even following these tips you will not see the autonomy of your wearable magically double.
Surely, they will help you gain a few more hours of use to be able to get to the end of the day with your device still active.
That said, keep reading this article and discover the tricks that will help you increase the autonomy of your wearable, even if it falls into the category of cheap smartwatches .
THE 7 TRICKS TO INCREASE THE AUTONOMY OF YOUR SMARTWATCH
Let's start with the first advice that also applies to smartphones.
Try to manage the brightness of the display.
It is not necessary to set the brightness to maximum, but it is important to adjust it according to your needs.
Try to find the right balance that will allow you to use the features while also limiting excessive battery consumption.
Some smartwatches have an ambient light sensor available, through which the brightness is automatically managed based on the environments in which you are.
If you want to buy a wearable with the "always on screen" feature, then you should know that it is advisable to deactivate it.
This function allows you to keep the screen always active even if at low brightness, with the utility of staying up to date on incoming notifications or the time.
It is true that this function does not consume a lot of energy, but it is always advisable to deactivate it to grab a little more autonomy.
The third trick we propose is to activate silent mode.
Since a smartwatch is not like a smartphone, if you don't feel the urgent need to receive sound notifications by email or Whatsapp messages received, you can use this mode to really save a lot of battery.
By activating this function, in fact, the screen brightness and vibration will be automatically deactivated.
What smartwatch would it be if it doesn't receive notifications?
True, but notifications, while very useful, drastically reduce the battery level.
In fact, when you receive a notification on your smartwatch, the display lights up for a few seconds in order to read the contents.
Therefore, always based on your purchased device, try to disable the notifications that you consider not important.
In this way the smartwatch will gain additional minutes of autonomy.
If you are at the end of the day and the battery of your wearable watch is running out, we recommend that you deactivate the motion sensor, that is the sensor that allows you to manage your device simply by turning your wrist.
Obviously this feature is really great and if you can't help but focus on the other tips, or, as already mentioned, turn it off only when the battery level is running out.
For devices that have it, cinema mode is a very useful feature.
This function has been designed for those who are at the cinema or theater and do not want to disturb other people ; by selecting it, the clock screen will turn off (entering a kind of hibernation, optimizing battery consumption) and can only be turned on again by pressing the power button.
The last trick we wake you up is to respect the battery cycles.
Don't you know what it means? It's very simple: you never have to charge the smartwatch (or even other devices) when the battery charge level is above 20% and stop charging when it is not completely complete.
As with smartphones, poor battery management will cause a decrease in the performance and duration of the device over time.
After having listed the seven tricks to save the battery of your smartwatch, we would like to recommend you a smart watch that has greatly surprised us, both from the aesthetic point of view and from the point of view of battery life.
We are talking about the Alcatel Go Watch.
ALCATEL GO WATCH WITH BATTERY THAT LASTS UP TO THREE DAYS
This smart watch is compatible with both Android and iOS and offers a really good user experience, more than other cheap smartwatches on the market.
The features of this device are so many; let's start talking about the style, as Alcatel offers the possibility to "change skin" to the smartwatch, offering cases and straps that can easily be replaced to customize the watch as you like.
You can choose between a white or black case, or something less standard with orange or turquoise writing accompanied by the relative straps.
Go Watch, as anticipated, is a smartwatch compatible with Android and iOS and is suitable for both young and business audiences, thanks to its structure without excess but equally very captivating.
The display is a 1.22-inch circular IPS LCD touch, surrounded by a crown that brings this Alcatel closer to a sports watch.
Its resolution is 240 x 240 pixels which appears suitable for the type of device.
With this device you will have many features available.
You will be able to monitor your sleep , watch daily progresses, start a physical activity session, check the weather, use the compass and monitor your heart rate.
Really interesting is the Emotion Pulse, a function that detects the personal stress level of the wearer.
If you feel hungry, relaxed or unleashed, the Go Watch will tell you by measuring your pulse and, creating a series of trackings carried out, measures your level of well-being and stress.
You will also be able to share these results with your friends and interact with them thanks to a community.
In this way you can exchange your moods or even share the goals set in the fitness use of this device.
Another feature we really liked is an app called Move, which gives you the ability to manage the dials, change the colors and style of the hands and the background.
You can also control your smartphone camera remotely.
Now let's talk about the thing that is most dear to us, namely the battery.
This smartwatch has a battery that measures 225 mAh and exceeds the average size of the competitors, also guaranteeing a good three days of use with all the features active.
Not bad for a device that falls into the category of cheap smartwatches .
Finally, we consider this smartwatch a dynamic and fun device to wear, with an excellent value for money that makes the Go Watch very attractive.
If after three days of use you find yourself with your Alcatel that is about to shut down due to the battery, remember the tricks listed above.
ADVICE ON HOW TO CHOOSE THE BEST ANDROID SMARTPHONE WITH CAMERA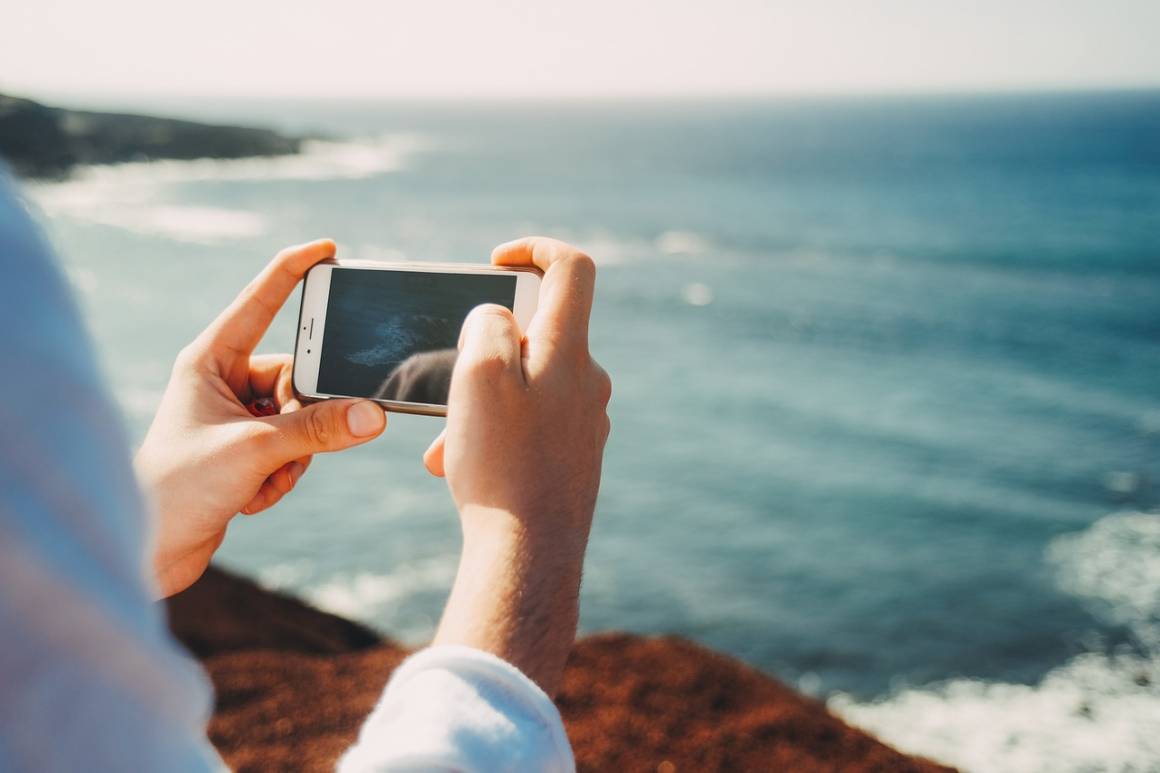 We are literally bombarded with smartphone advertisements both online and on TV and for each device there is always a reference to the camera.
Increasing numbers of megapixels, fash, zoom and so on and so forth.
It is normal that once faced with the choice of buying a mobile phone you do not know where to start, especially if you want an android smartphone with the best camera.
Digital cameras offer better images, no doubt, but our thinking is that the best camera is the one ready to use when you need it.
In fact, who has never happened to take an "impulse" photograph without thinking twice? The smartphone that each of us has in his pocket is the best solution to achieve this goal.
There are many phones on the market today with a camera as powerful as the best digital cameras .
Are you about to buy an Android smartphone on offer and do not know what features the photographic sector must have?
Don't worry, we are here to list you the characteristics of a smartphone suitable for taking more than dignified photographs.
THE FEATURES A SMARTPHONE MUST HAVE TO TAKE BEAUTIFUL PHOTOS
Let's talk about megapixels. Even today there is a tendency to exalt the number of megapixels of a camera. Don't be misled.
Megapixels, that is the resolution of the photographs taken with the camera, are certainly important, but two other factors are more important, namely the quality of the sensor and that of the optics.
▷▷▷ To learn more, click here: Useful tips on buying a Shock and Water Resistant Smartphone
Therefore, when you want to buy a smartphone on offer , we recommend that you choose the one with a large enough sensor and a better optical camera. A sensor between 12 to 20 megapixels is more than enough to offer a decent photo quality without falling into too many noises or artifacts.
Remember to consider the focal ratio, which is a number (f / 2, f / 2.2 etc.) that indicates the proportion between the focal length of a lens and the diameter of the aperture of that lens that allows the access of light. .
The higher this number, the lower the light that the sensor can hold for the same exposure time will be. Therefore, the smartphone will create poor quality images when you find yourself in low light environments or in the evening.
Therefore, a good cell phone to use as a camera even in the evening or in poorly lit places, must have a focal ratio of at least f / 2.0.
A feature to be evaluated when purchasing a device is the presence of the optical stabilizer, which reduces the risk of taking blurred photographs.
Today almost all smartphones allow you to manage photo shooting based on two modes: automatic and manual.
The first mode is very useful for beginners and allows, when taking a photograph, to adjust the various parameters of the camera to obtain a more than satisfactory result.
In this way, the smartphone itself will read the environmental situations in which you find yourself (backlight, dark, low light, etc.).
If, on the other hand, you get along with photography, then you can activate the manual mode and manage the parameters that you consider most important.
Let's continue talking about HDR, that is the High Dynamic Range.
This very important function allows you to manage situations of strong light and dark shadow areas all together.
This happens when you want to photograph a monument or building against the light.
With HDR exposure is improved because it extends the interval between the lightest and darkest areas, taking multiple photographs in sequence and allowing the software to reconstruct the image and have higher quality photographs.
Finally, you must also consider the zoom capability of the smartphone.
Normally, a 5x or 6x zoom is great for any circumstance you're in.
However, if you are faced with particular situations such as a sports competition or a concert, perhaps you should choose something more powerful.
AN ANDROID SMARTPHONE WITH AN EXCELLENT CAMERA: ALCATEL IDOL 4
Now we want to recommend a smartphone model on offer on the market with a camera that includes all the features we have listed previously.
Let's talk about the Alcatel Idol 4.
This Alcatel was created with excellent materials; we note an aluminum profile and Gorilla Glass.
The processor is a Qualcomm Snapdragon 617 and the GPU is a 550MHz Adreno 405, which guarantee excellent performance, together with a 2Gb RAM.
The display is a 5.2-inch LTPS IPS with a 1080 × 1920 pixel resolution in Full HD.
The battery is integrated and contains a power of 2610 mAh which guarantees excellent autonomy .
Alcatel Idol 4 is equipped with an Android operating system in version 6.0.1 Marshmallow and offers the possibility of using two Sim cards.
This smartphone also offers an original function: the Boom button.
This key allows you to activate some features based on the app you are currently using.
For example, if you press with the display off, you can take a photo, while with the display on you can see a weather animation, take a screenshot or start an app.
In addition, pressing the Boom button in the photo gallery will create a composition of images, or, while listening to music, the surround effect will be amplified.
Now let's talk about what interests us most, that is the camera.
In this device we find a 13 megapixel rear camera and double LED flash.
In addition, we also have an 8 megapixel front camera with LEDs for perfect selfies .
As previously mentioned, a good smartphone with a camera must offer the possibility to choose the shooting mode and this device does not disappoint, as it allows you to use the automatic or manual one; the latter allows you to individually adjust the white balance, exposure and focus.
In addition, it offers the possibility of taking pictures in panorama format and slow motion videos.
In reference to the video, the maximum resolution is Full HD at 30fps.
You can also take pictures with HDR, night mode and digital video stabilization.
To conclude, the photographs of this Idol 4 offer good quality, as the images are always well balanced, with the colors reproduced very vivid.
Among the Android smartphones on offer with an excellent camera, this Alcatel has all it takes to take great photos.
Remember, however, that the skill of the photographer is also important.
Some tips we can give you are to use the flash correctly, keep the smartphone in the same line of sight as the eyes of the person you want to photograph and if there is a background to "frame" try to decentralize the subject of the photo.
Finally, don't forget that you have the ability to take and post photos online using smartphone apps like Instagram, which allows you to easily retouch them, apply special effects and share them with your friends.